Royal Talens Van Gogh Water paint colour Set Cardboard 20C110 tube
Description
Van Gogh Water colour Set Cardboard 20C110
Van Gogh is a brand for serious artists with an eye quality.
The watercolour paints of van Gogh's brilliant and intense paint that is very transparent. All colours have the highest degree of light fastness. Due to the purity of the colours are easy to mix and wash to create the tiniest of difference in shade.
This set contains: 12 x 10ml tubes in a cardboard box
Colours in set: Chinese white, permanent lemon yellow, Azo yellow M, permanent red light, Vermillion, Ultramarine dark, Cerulean Blue, Viridian, Burnt Sienna, Payne's grey.
Quality, that's what you choose A new idea, a new discovery. That is what every artist is constantly looking for. Van Gogh is the brand for the adventurous, studying artist that is always on the lookout for the best way to tell his or her story. The artists ' paint Van Gogh remains as innovative and modern as Vincent Van Gogh was in his time. Every day we are trying to provide you, our source of inspiration, with a complete line of artists ' materials. From acrylic colours to oil colours, and from water colours to oil pastels.
Did you know that Vincent Van Gogh painted not only oil paintings, but also beautiful water colours? And that he developed from a realistic to a more impressionist painter, refined his pointillism technique and eventually focused totally on experimenting with colours? Vincent continued to reinvent himself and dared to go that step further. Van Gogh challenges you as well, to develop your own unique way of working with a complete assortment of quality artist paints.
PRODUCT FEATURE:
Brand: Royal Talens
Barcode: 8712079231491
MPN: 20820110
Box Dimensions : 18 x 9 x 2.2 cm
Artists Level: Student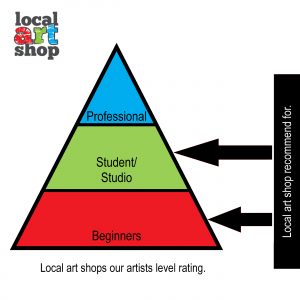 Additional Information
| | |
| --- | --- |
| Weight | 267.0000 g |
| Artists Level | Student |
| Art Medium | Watercolour |
| Barcode | 8712079231491 |
| Items variations | Assorted |
| Manufacturer SKU | 20820110 |
| mpn | 20820110 |
| Number of items in pac | 1 |
| Size | 10ml |
| Type of Item | Watercolour Paint |