Royal Talens Van Gogh Oil Paint 200ml tubes assorted colours
Description
Royal Talens Van Gogh Oil Paint 200ml
When looking for a better oil colour, this Dutch-crafted Van Gogh range is for you.
A buttery oil that features excellent tinting strength, a high level of pigmentation for intense colours, and a uniform degree of gloss and thickness amongst colours.
Easy to mix and use.
These oils are great for beginners, students in advanced studies, and working artists. Van Gogh oil colours are available in 66 colours in various sizes and sets see other listing for the sets and 40ml tubes.
Alizarin crimson 326
Azo orange 276
Azo red Deep 313
Azo red Light 312
Azo red Medium 393
Azo Yellow Deep 270
Azo Yellow Lemon 267
Azo Yellow Light 268
Azo Yellow Medium 269
Burnt sienna 541
Burnt umber 409
Cerulean blue (phthalo) 535
Cobalt blue (Ultramarine) 512
Emerald green 615
Green earth 629
Ivory Black 701
Lamp Black 702
Light oxide red 339
Madder lake Deep 331
Madder lake Light 327
Naples Yellow deep 223
Naples Yellow Light 222
Naplles Yellow Red 224
Permanent Green Medium 614
Phthalo Blue 570
Phthalo Green 675
Prussian blue 508
Quinacridone rose 366
Raw Sienna 234
Raw umber 408
Sevres blue 530
Sap green 623
Titanium White 105
Titanium Whitelinseed Oil 105
Turquoise blue 522
Ultramarine 504
Vandyke brown 403
Violet 536
Yellow Ochre 227
Yellowish green 617
Zinc White 104
Artists Level: Beginners / Student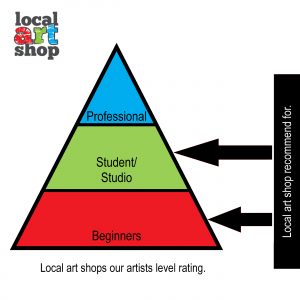 Additional Information
| | |
| --- | --- |
| Artists Level | Student |
| Art Medium | Oil Paint |
| Number of items in pac | 1 |
| Size | 200ml |
| Type of Item | Oil Paint |