Pebeo Artists Acrylic Glow in the Dark – 100ml Tubes
Description
Pebeo Studio Acrylic tubes, 100ml Glow in Dark Phosphorescent Gel.
Colours on offer: Green, Turquoise, Blue, Yellow, Colourless (hover over image to see colour)
This thick and creamy paint is great for creating a layered effect, adding depth and dimension to your work.
Compatable with other acrylic mediums, or can simply be used on their own.
Once dry, the paint is extremely enduring, offering a long-lasting colour.
These phosphorescent gels absorb natural or artificial light and re-emit it in the dark.
There are 5 types of gels and they are slightly dyed in order to distinguish the colours more easily in the day, except for green, non-dyed phosphorescent gel.
They should preferably be applied thickly with a painting knife. Gloss, Matt or Phosphorescent gels.
Studio Acrylics Gloss Gel, Matt Gel and Phosphorescent Gel
Of thicker consistency than Bindex, these gels prepare and give depth to colours. They also work as a gloss, as a matt or to give a touch of phosphorescence to the piece.
In addition to the spectacular colour selection for both professionals and amateurs, Pébéo offers a wide range of auxiliaries to achieve diverse techniques, applications and special effects. Pebeo 100ml Studio Artist Acrylic is high viscosity, giving it an excellent texture when it's on a canvas.
Pebeo Studio Acrylics have a satin finish, developed with the same precision as the extra-fine acrylics, meaning the pigment quality is good.
It retains the brush or painting knife mark and can be either used pure or with the Pebeo Studio Acrylic auxiliaries, depending on the desired effect.
Very adherent and indelible when dry.
Please note that the glowing images are taken with a long exposure time. We make every effort to take images to show the true colour and finish of the product. However, due to lighting conditions, screen resolution and manufacturing changes, the representation of colour, texture and finish may vary from screen to screen and on different devices.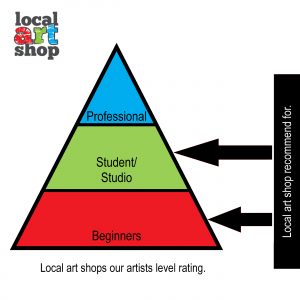 Additional Information
| | |
| --- | --- |
| Artists Level | Student |
| Art Medium | Acrylic |
| Size | 100ml |
| Type of Item | Acrylic Paint |