Pebeo Acrylic studio paint 500ml Cadmium Medium Orange Hue
Description
Pebeo Studio Acrylic 500ml Cadmium Medium Orange Hue.
COLOURS:
Bright colours and deep, richly pigmented, satin matt finish, very good lightfastness. Very adherent and indelible once dry, suitable for most surfaces. Can be mixed together. Resistant film and flexible to movement.
BRUSH CLEANING:
Clean with water.
SURFACES:
Canvas, cardboard, wood, metal …
DRYING TIME:
Touch dry between 30 minutes to 1 hour, thoroughly between 1-8 days depending on thickness.
DYNA:
Studio Acrylics Dyna" colours are obtained from pigments which render effects generally referred to as "pearlescent"" effects.
The principle behind this is that these pigments are composed to form layers of different materials, each having their own refractive index.
The base of such pigments often consists of mica, silicon dioxide or aluminium oxide onto which successive layers of other material are deposited. Titanium dioxide is often found here.
The effect provided by these pigments is achieved by a play of reflections/successive transmissions. The layers having their own refractive index will each transmit a different portion of light and reflect another. They will consequently react by decomposing and recomposing incident light depending on their composition.
Studio Acrylics is available in two viscosities to meet the requirements of modern artistic expression.
The High Viscosity Studio Acrylics has a thick consistency particularly suited to work in dimension. It still holds the strokes of the brush or spatula and when used pure or with acrylic mediums or Studio auxiliaries, it will still allow for expanding the creative possibilities.
The Fluid Studio Acrylics is an acrylic liquid consistency recommended for application with a brush, especially for fine and regular brush strokes. Used pure or with acrylic mediums or Studio auxiliaries, it allows to obtain glazes and watercolour effects.
In the end, the colours perceived, when observing an artwork displaying Studio Acrylics Dyna colours, will strongly depend on the type of effect pigment contained in the colours used, of the associations with classic pigments, but also of the nature of the incident light and of the angle from which the artwork is observed.
"
PRODUCT FEATURE:
Barcode: 3167861710329
MPN: 179032
Medium: Acrylic
Box Dimensions : 14 x 8.5 x 8.5 cm
Artists Level: All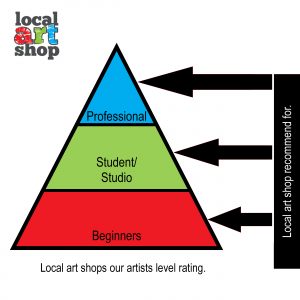 Additional Information
| | |
| --- | --- |
| Weight | 580.0000 g |
| Artists Level | All |
| Barcode | 3167861710329 |
| Items variations | Cadmium Medium Orange Hue |
| Manufacturer SKU | 179032 |
| mpn | 179032 |
| Number of items in pac | 1 |
| Size | Assorted |